Naturally derived, plant-based repellent, finally an industrial DEET FREE insect repellent that works! Bug X FREE is an all natural, DEET FREE insect repellent providing protection against mosquitoes.

BugX FREE formula is:
Safe to use on FR clothing
Non-flammable
Naturally Derived, Plant-based Geraniol
Easy Application
Convenient

Bug X FREE is the perfect answer when Fire Retardant (FR) clothing is being worn, environmental conditions prefer "All Natural" products to be used, and /or face and neck protection is needed.

It's Your DEET FREE Insect Repellent Skin Care Solution.
---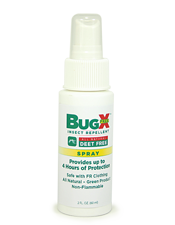 Bug X FREE Spray 2oz Bottle
SKU: 12850-R
Price: $5.50  
---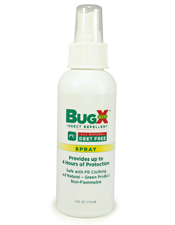 Bug X FREE Spray 4oz Bottle
SKU: 12851-R
Price: $10.50
---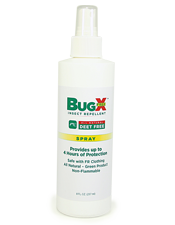 Bug X FREE Spray 8oz Bottle
SKU: 12856-R
Price: $19.50
---
*We don't Ship Outside of the United States!